February Meeting
The Role of Small Modular Nuclear Reactors in Carbon Free Power
This presentation from Vikram Rao will discuss his recent book.  "Carbon-Free Power: The Role of Small Modular Nuclear Reactors"  In our conversion to a carbon free electric grid, solar and wind power have established themselves as low-cost leaders.  However, these energy sources are highly variable, and electrical power is needed 24/7. Alternative sources must fill the gaps, but only a few are both economical and carbon-free or -neutral.
This book and presentation presents one alternative: small modular nuclear reactors (SMRs). The authors describe the technology, including its safety and economic aspects, and assess its fit with other carbon-free energy sources, storage solutions, and industrial opportunities. They also explain the challenges with SMRs, including public acceptance.
The purpose of the book is to help readers consider these relatively new reactors as part of an appropriate energy mix for the future and, ultimately, to make their own judgments on the merits of the arguments for SMRs.  Anyone who RSVPs below and is attending in person may purchase a signed copy of the book at the end of the meeting.  For those attending remotely, the book is available on Amazon.
When:
Tuesday, February 21st, 2022
5:30 PM (Social), 6:00 PM (Presentation)
Where:
Advanced Energy Office
See Map 
In Person (preferred): 
Advanced Energy
Centennial Campus, Research Building IV
N.C. State University
909 Capability Dr #2100
Raleigh, NC 27606
See Map 
Remote: 
Microsoft Teams meeting
Join on your computer, mobile app or room device
Meeting ID: 278 677 842 097
Passcode: mtChr8
Phone Conference ID: 143 433 897#
Who:
NCAEE Members and Friends
Cost:
No cost for attendees
Speaker Bio:
Vikram Rao is Executive Director, Research Triangle Energy Consortium www.rtec-rtp.org , a non-profit in energy founded by Duke University, North Carolina State University, RTI International and University of North Carolina at Chapel Hill. Its mission is to illuminate national energy priorities, and those of the world by extension, and to catalyze research to address these priorities.  Dr. Rao advises the non-profit RTI International, and firms Alchemy Sciences Inc., Clyra Medical Technologies, Cybele Microbiome Inc., Fervo Energy Inc., M2X Corp., Minerva Lithium, and Sage Geosystems. He serves as an expert witness in intellectual property litigation. Dr. Rao retired as Senior Vice President and Chief Technology Officer of Halliburton Company in 2008 and followed his wife to Chapel Hill, NC, where she is now emerita professor in the UNC Medical School. Later that year he took his current position. He also is past Chairman of the North Carolina Mining and Energy Commission.
Chris Gould is an Alumni Distinguished Undergraduate Professor of Physics Emeritus. He taught at NC State for 45 years and previously served a decade as Head of the Department.  Later appointments included seven years as Associate Dean in the College of Sciences and a year as Interim Head of Biological Sciences. Following retirement in 2016, he took a two-year IPA position with the Office of Science, US Department of Energy, serving as program manager for the nuclear structure and nuclear astrophysics programs in the Office of Nuclear Physics.
Directions:
For people attending in person, they can put our address in their GPS, 909 Capability Dr., Raleigh, NC 27606. Parking permits are not necessary after 5:00 p.m.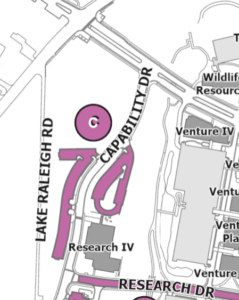 Park in either of the lots shown in pink—next to Research IV or across Capability Dr. There is a ChargePoint charging station in the lot across Capability Dr. Enter the main entrance to the building on Capability Dr. The building is locked in the evenings, but we will have someone there to let meeting attendees in. We are in Suite 2100, halfway down the hallway on the right. Our suite will also be unlocked for the meeting.
Additional Information:
If lost, call Michael Lyda cell phone 919-716-6391 or Phil Korest cell phone 919-382-8006
---
RSVP:
---