March Meeting
Join us on March 28th with Doyle Freeman for a meeting on Advantages of Fan Array Technology
Building owners pay for CFM, static pressure and sound level at their air handling unit discharge. Fan Arrays are designed around a philosophy of eliminating or neutralizing trade-offs from traditional fan systems. In the "Advantages of Fan Array Technology" presentation, we'll review how owners are reaping the rewards of choosing fan arrays, and discuss the following specific topics: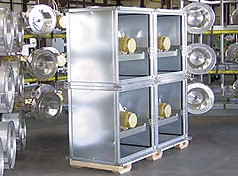 Why Fan Arrays, and what are the real benefits over standard fans in air handling?
Analysis of first cost versus operating cost considerations.
How has Fan Array technology changed over the years, and what makes one manufacturer different from another?
Comparison of EC motors versus AC Induction.
What are the various Fan Array control possibilities?
What is, and what is not a patent violation in the Fan Array world?
Sample projects and successes
Fan Arrays have changed the HVAC world by creating built-in redundancy, energy savings, and quieter operation of air handling units.  They are the only choice for mission-critical applications, and are now very common in K-12, University, Healthcare, and commercial building applications due to their inherent advantages over traditional fan systems.  This one-hour PDH presentation will allow attendees to apply new and increased knowledge of Fan Array systems in HVAC design, and create lasting value for building owners throughout the industry.
RSVP:
See Form Below
When:
Tuesday, March 28, 2017
5:30 (Social)
6:00 (Program)
Where:
Piedmont Service Group
1031 Nowell Road
Raleigh, NC 27607
Google Maps Link
Who:
NCAEE Members and Friends
Cost:
No cost for attendees
Directions:
Piedmont Service Group is located off Nowell Rd, close to Carter-Finley and the PNC Arena.
From I-40 East, take exit 290 for Chapel Hill Road and turn left onto Chapel Hill Rd (toward Raleigh). From I-40 West, take exit 290 for Chapel Hill Road and turn right onto Chapel Hill Rd (towards Raleigh).
Turn left onto Nowell Rd.
Piedmont Service Group will be on the left hand side of the road.
Follow signs and NCAEE volunteers to the training room.
Additional Information:
If lost, call Dale Cranford cell phone 336-553-7768
---